Istria, Croatia's most famous peninsula, is arguably Croatia's most advanced cycling destination. Over the last four years, the development of bike tourism has boomed in Istria, where the area has successfully achieved all-year tourism and offers cyclists more than just a cycle trail.

Istria is famed for its Bike & Bed concept, where accommodation providers meet strict standards to ensure the needs of cyclists. There is no reason to worry about bike repairs in Istria - they have you covered. In Istria, there are Bike Friendly Points - innovative service areas which are equipped with tools aimed at assisting cyclists who run into trouble. At these Bike Friendly Points, cyclists are able to make quick fixes on their own with the use of tools and spare parts provided.

There are over 1000 kilometres of bike trails on offer for a varied audience in Istria. Both amateur and professional cyclists only need to pick a colour. Blue Istria, that is towns that hug the indented bright blue Adriatic coastline offer cyclists opportunities to explore Roman ruins, like the world's most preserved Roman Amphitheatre in Pula or the Byzantine mosaics at the Episcopal Complex of the Euphrasian Basilica in the Historic Centre of Porec. From there cycle several kilometres inland to see just how the landscape changes to green. Green Istria will afford cyclists a hilly interior, passing famous hilltop towns like Grožnjan, Oprtalj, and Motovun.

No matter whether you choose blue or green, cycling in Istria is absolutely thrilling. One moment is spent pedalling past ancient churches and the very next you'll be cycling up the path to a modern boutique winery with their indigenous grape varieties of Teran and Malvazija.

Fields of olive trees await you in Istria where olive oil tourism is almost endless. A cycling vacation here will allow you to see and taste the delights of the award-winning liquid gold oils of Istria. Recently Flos Olei named Istria as the world's best olive oil region, with several Croatian olive oil producers taking home gold and six silver medals confirming Istria's presence on the olive oil world stage.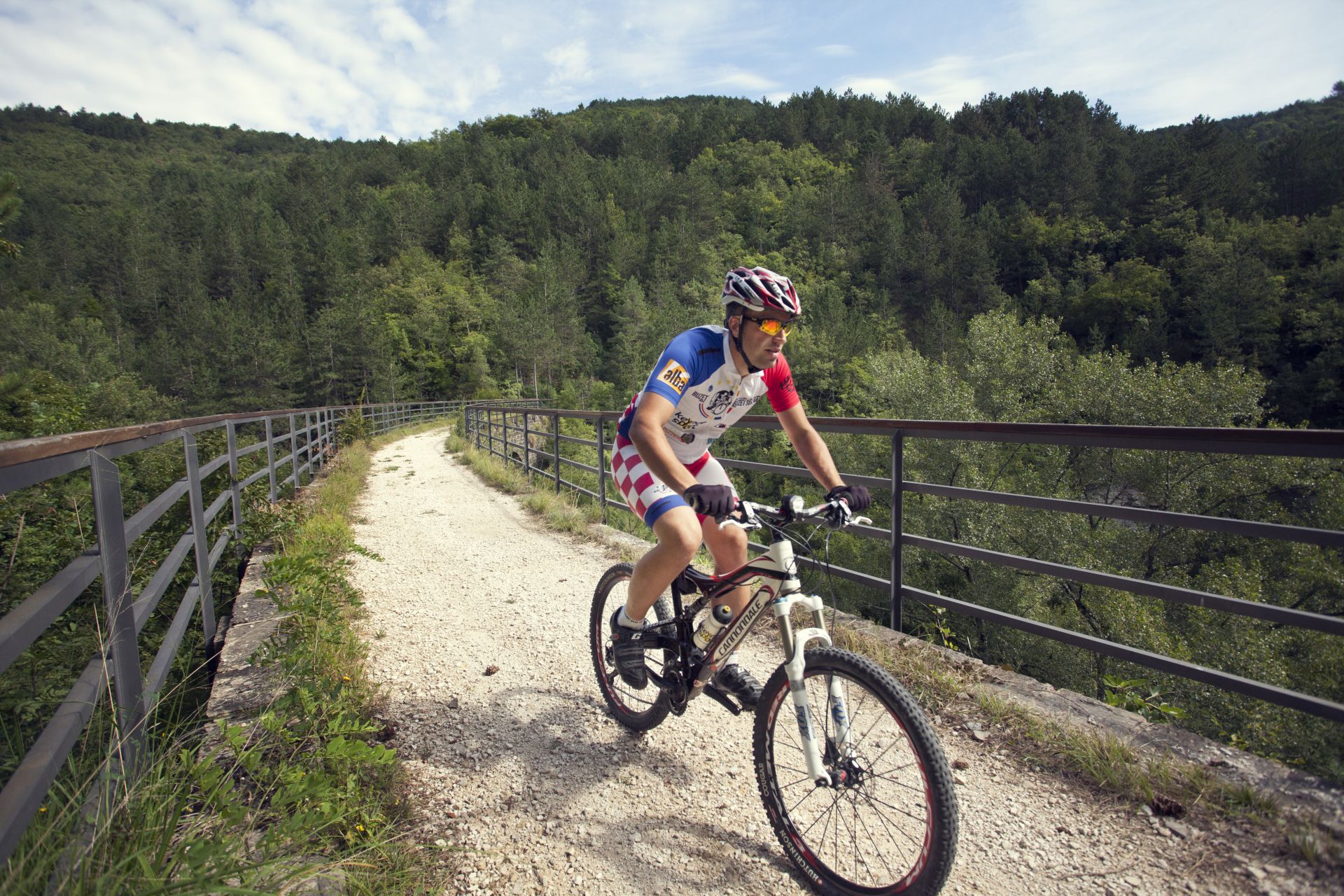 Springtime in Istria offers wild asparagus that can be plucked along the way, or if you're on two-wheels in autumn, you'll be able to try your hand at finding the elusive white truffle in the Motovun Forest. It isn't just the shoulder seasons for the cyclist in Istria, in the early winter months, professional cycling teams take full advantage of the pleasant climate for training purposes. Well-marked routes are at the disposal of all cyclists, who can choose easier or more challenging courses based on their ability.

One of the most famous bike routes in Istria is the Parenzana. The trail was once a railway over 120kms long which connected 33 towns from Trieste to Poreč. The train tracks are now long gone, however, recent investment has seen the railway transformed into a hiking and cycle route which takes you through many glorious sights in Istria.
Fit cyclists should head east towards Rijeka to try their hand in climbing the Ucka mountain which for the past two years has been the final leg of Tour of Croatia. With a paved road to the top, the highest peak, Vojak, is perched 1396 metres above sea level. It's a challenge only for the brave. Once at the top you'll be rewarded with views to Krk and Opatija.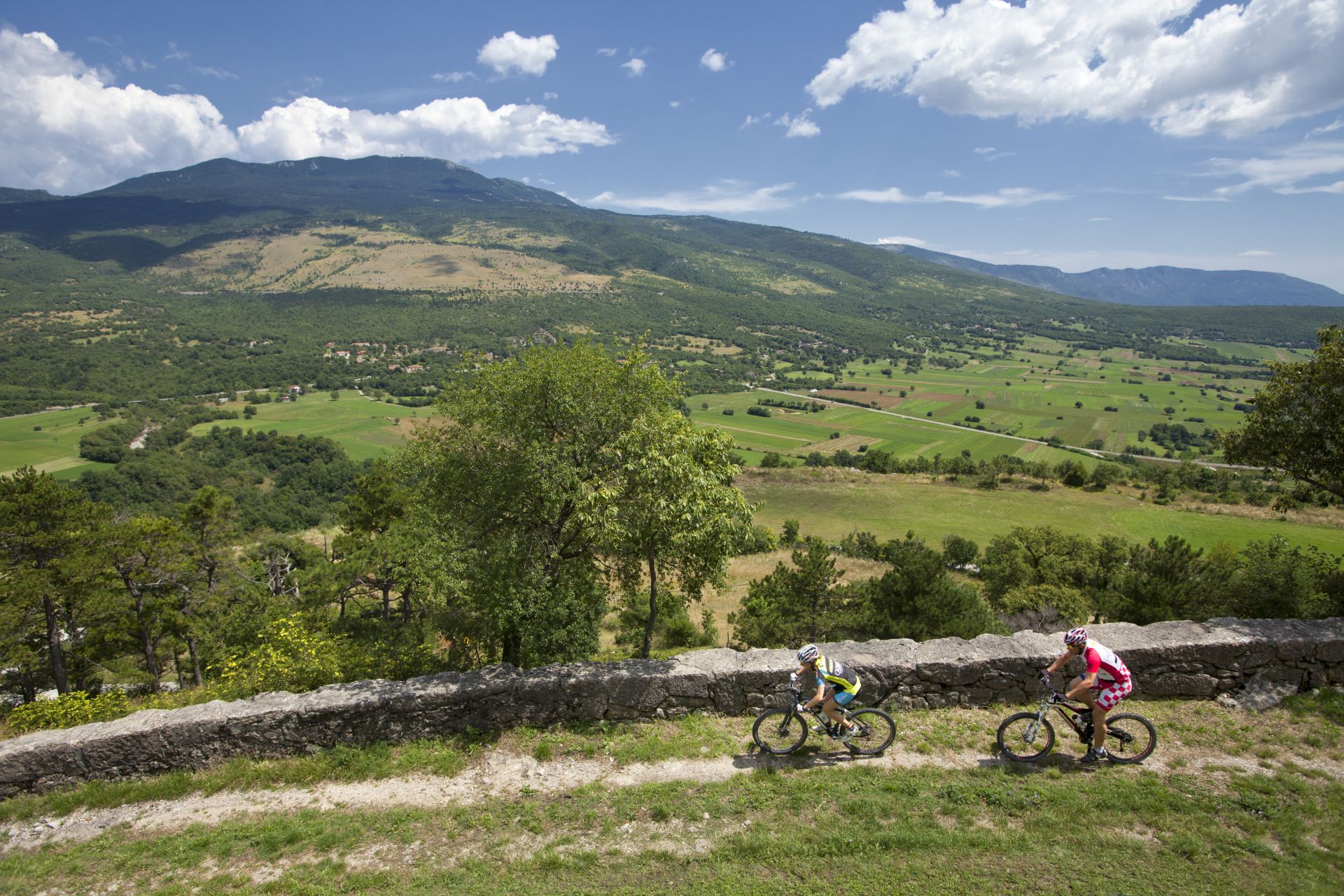 No matter what trails you choose to criss-cross this 2200 square kilometre peninsula - the charms of Istria will leave you speechless.
For an overview of the region and its cycling, visit www.istria-bike.com, the official regional tourist board website.