When I arrived in Tučepi, the heart of the Makarska Riviera, I did not know where to look first, in front towards the sea and Brač and Hvar islands or behind me to Biokovo looming like Superman above me. Bluesun Hotel Alga was the first to open its doors, with guests taking walks. Asparagus pickers will be the first ones you meet on trails, which are also partially bike routes.
My first afternoon bike trip was to Makarska. So much green and blue and gravel… My eyes were all over the place, I think it took me an hour for those seven kilometres, or more. The scene with the bench and bicycle in the forest and unreal Biokovo will have a special place in my photo album. Such a short route has many ascent and descents, with an especially attractive arrival to Makarska and view of the new pier.
Since the weather forecast predicted a change of weather, I knew Biokovo was mine for the taking without wait. Easter marks the beginning of the season so everyone came alive, opening up their services. Hence, I could imagine I would not be alone on the mountain. The first cyclists and hikers came soon. Employees of Nature Park Biokovo were clearing the road to St. Jure so it would be ready for the first visitor. And the Tour of Croatia race will also be held this year on the Biokovo route. The climb of Biokovo takes all day and plenty of preparation. Get enough water and energy bars. Help is always available as Biokovo has some private homes and plenty of passer-bys. The Vrata Biokova family farm is open until the fall and is a good place to rest and replenish.
Although you must be prepared and concentrated on the uphill ride, rising above the sea, so high and mighty, will give you the strength to succeed in your cycling undertaking. After entering Biokovo Nature Park at 336 metres above sea level. Once you reach 800 metres, you're close to success. The sea will stimulate you, the mountain air even more.
And the Biokovo landscape… It must be seen and on the bike the experience is unique. A smart and moderate ride is important until you reach the Ravne Vlaške overpass and everything becomes easier. After another four kilometres the ascent becomes easier. You can end the ride at Vošac peak, part of the Biokovo tour route. To climb to St. Jure peak takes three to four hours or more, like me. It is best to ride without too many rest stops and too many refreshments. Leave that for the ride back or like me, treat yourself at the top. Unfortunately, bad weather chased me away soon. The Biokovo road is 23 kilometres long. There are forks in the road, but one cannot get lost. A sudden change of weather can be a problem, common on the mountain.
Until that change I literally enjoyed real spring, almost without wind, at 10 Celsius. Taking pictures on the north face with snow mounds and enjoying alpine view on the south face. It took me nearly five hours, but photographing on the way and some socialising turned out to be a good balance and ratio of power and possibilities. We are all still getting in shape for the season. The top has a large transmitter and a great view of the A1 highway to Ploče as well as Herzegovina and Biokovo hinterland. I was really lucky to spend some hour and a half on the top. The winding road to the top in the last several kilometres seems like a Biokovo snake and many will find these mountains serpentines a tough undertaking. But it can be done.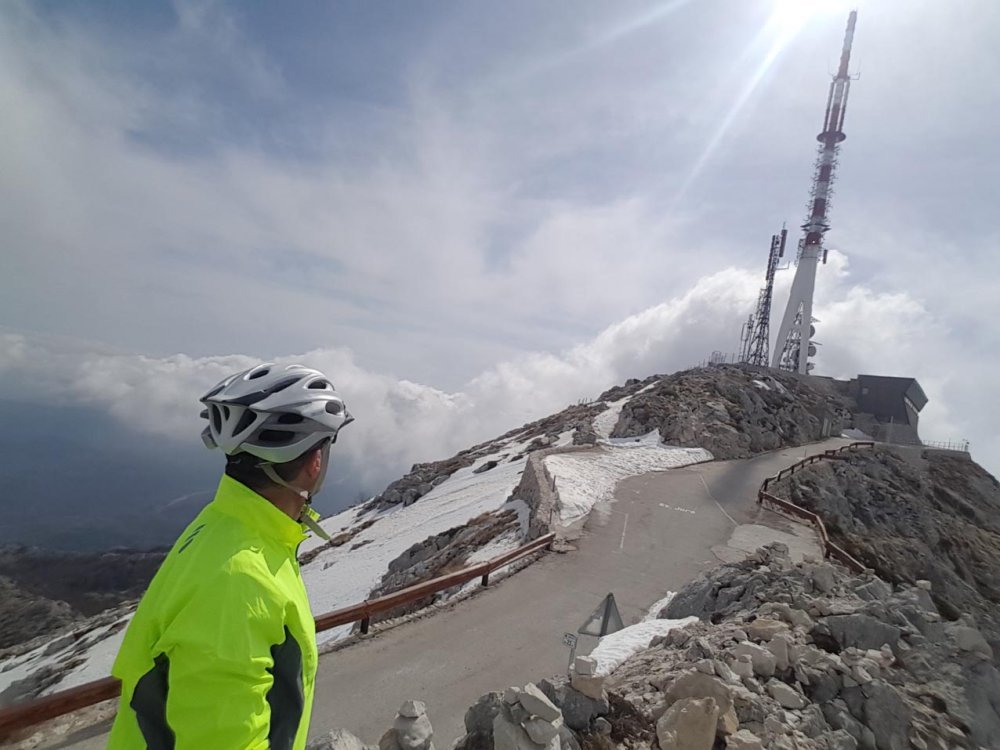 The magic prepared for me by St. Jure I accepted with both hands, but it came to an end. I prepared well for the return. The entire Biokovo and sea were already in a mist and clouds, now even dark. Only the top was still spared. Short sleeves, short pants and lounging on the grass were gone. I had four pairs of gloves, just in case. Wind, rain and ice followed me on the descent nearly 30 kilometres long. But it was all worth it. I have never been so wet. I have to mention that was my longest descent in one piece.
Biokovo Tour is thirty kilometres long in one direction, but there are other and easier routes. The Makarska route is easier with 15 kilometres, Tučepi somewhat harder with 30 kilometres. The next best thing for me after Biokovo is the Brela Tour from Tučepi to Brela. It is not easy.
Out here, you don't need a boat to get to a hidden beach, you can bike there too. Through dense pine forests and rocks. Out of season Tučepi seems like a fashionable mecca. Always something to surprise, like a small squirrel jumping alongside. Some route sections reminded me of last year's ride along the Danube. Why shouldn't we offer our routes and destinations for such multi-day bike trips? Such an experience of the seaside is completely new for us who visited it only in the summertime, especially on a bike.
For the original and more from Pedaliranje blog on Tportal, click here.